Description
Member Registration Information
Late Registration - $500 per person (January 12 - January 30, or until conference space is full)

On-site Registration - $550 per person

Are you a student or academic, or registering a large group of people from your company? Contact info@ciderassociation.org for discount details
---
Included with your CiderCon® Conference Registration
Opening General Session with Keynote Speaker

TTB Bootcamp on Wednesday - 8:30am-12:30pm

Lunch on Thursday and Friday presented by Jenrey

Coffee presented by Milne

Two-day access to the Trade Show and Happy Hour presented by Fruitsmart

More than 30 educational workshops about professional cidermaking and related topics
---
Optional Add-Ons
CiderCon Tee Shirts - $16 - Available in the Trade Show Thursday and Friday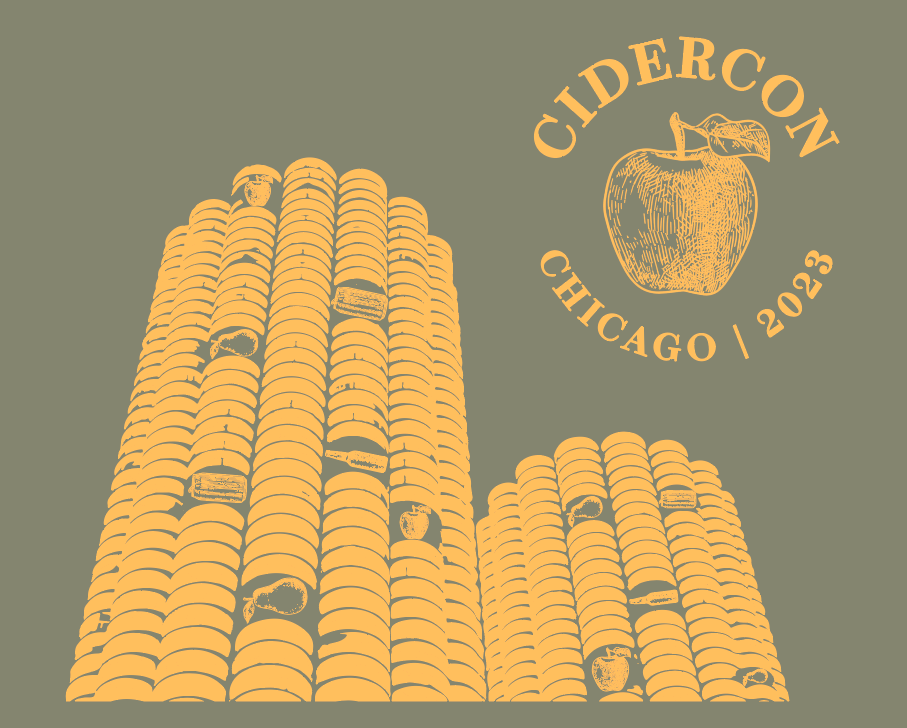 CiderCon Speaker Fund: 100% of your donation will go toward speaker stipends to recruit professional speakers to teach at CiderCon® $50
Tuesday, January 31st
Bronzeville Neighborhood Tour - Visit sites like the birth place of Black History Month, the Eighth Infantry Armory, and the Supreme Liberty Life Insurance Building. Gain a better perspective of the historic south side and learn how it changed the world. From the 1st open heart surgery, to Ida B. Wells-Barnett mansion there is a ton of history to be seen. And we can't forget Pilgrim Baptist Church, which is considered the birth place of gospel music. Lunch is not included. Tour departs at 10:00am. $50

Chicagoland Cidery Tour - SOLD OUT - This tour will visit local cideries Eris Brewery and Cider House, Right Bee Cider and 2 Fools Cider. Each cidery will share something distinct about their cider-making process with guests. Tour attendees will fall even more in love with Chicago than before the tour! Lunch is included and this tour will be guided by Chicago cider legend, Ambrosia Borowski. Tour departs at 9:30am. $75

Frank Lloyd Wright Tour - Get to know Chicago through the architecture of Frank Lloyd Wright and some amazing local ciders. Tour attendees will start the day with tours of The Rookery and the Frank Lloyd Wright Home and Studio. Lunch, beverages, and tour of ERIS Brewery and Cider house's 1910 Masonic Temple. The evening will end with a tour of The Robie House followed by a tasting from Overgrown Orchards. Tour departs at 9:00am. $95

Historical Tavern Tour - Explore Chicago's past and present through historical taverns. Chicago is home to many historical bars that have seen so much more than just Prohibition. The tour will be led by Liz Garibay, a renowned pub historian specializing in the history and culture of alcohol; and the founder of the Chicago Brewseum. The tour will include 3-4 taverns, light fare, and a specialty drink at each bar. Join us as we tour Chicago's history through the lens of local pubs. This tour will be limited to 30 attendees, and will run from 2-6 PM. $65

Happy Hour Food Pairings - SOLD OUT Start your CiderCon journey off right with happy hour in the gorgeous penthouse suite. Enjoy curated pairings of delicious ciders and locally inspired tapas with just a touch of eduation and a lot of fun. This is the perfect event for aspiring Pommeliers and anyone in the cider community. Nibble, sip, laugh, learn, repeat! 3 - 5pm $60
Wednesday, February 1st
TTB Boot Camp - The TTB Boot Camp will include the following sections in more or less one hour chunks: TTB overview/updates and permits (originals and amendments; records, operational reports & tax returns; formulas; and labeling (including information on how to label cider with spirits added). Free

Cider Share Reception presented by Voran - SOLD OUT - The Cider Share reception will take place from 5:00-8:00pm $20

Actionable Strategies for Taproom Success - SOLD OUT Join us for an interactive workshop designed to help you see greater success in your taproom. Get excited to dive into fascinating data, learn how to turn metrics into financial gains, and get a better grip on your taproom finances. We will provide you with methods to create more memorable visits for your guests, more rewarding employment for your team, and a better understanding of your taproom finances. After this session, you will walk away with actionable strategies you can implement immediately to maximize your taproom experience. Starts at 8:30am on Wednesday. $49
Tasting Sessions - Please note that sold out tasting sessions will have limited room in the back for those who want to listen to the lecture but not taste (free of charge). These are offerered on a first come, first serve basis as space allows. Please be patient while ticket holders are seated first.
The ACA is proud to partner with the Cider Institute of North America to develop a robust offering of production workshops at CiderCon 2023. Many of these sessions include a tasting component. Other tasting sessions focus on sensory lexicon, flavor and terroir.
The Science Behind Spontaneous Fermentation - SOLD OUT Spontaneous fermentation is a series of microbial and chemical processes in succession. This session will explore what is actually happening during spontaneous fermentation and what leads to a successful fermentation through each transition. Speakers will discuss the presence and considerations of yeasts at different phases of the cider making process, microbiological reactions not related to yeast (temperature, pH, etc), the role of oxygen throughout fermentation, and apple characteristics as a precursor of success. $10

Tackling Microbial Spoilage During Aging: Comparing the Effects of Chitosan and Hideki Tannin - SOLD OUT The sensory profile of cider is significantly associated with microbial activities and the quality of cider is dependent upon predictable fermentation outcomes and product monitoring during bulk aging to mitigate or eliminate possible spoilage contamination. This advanced-level sensory session will explore the efficacy of two tools cider makers have to eliminate or mitigate costly intervention of microbial problems before they are needed during bulk aging. A triangle test will be presented to participants and will be used to determine the sensory findings of the experiment. Speakers will discuss the goal and results of this commercial scale experiment, the economic impacts of unaddressed microbial growth and the quantity of aromatic and flavor compounds they produce, plus the time savings and efficiency improvements of adapting SOP's based on the observed chemistry and sensory profiles from a previous chitosan experiment. Come help us answer the question: "What makes good cider?" and decide for yourself with this interactive tasting session. $10

Fostering the Aromatic Expression of Your Ciders - SOLD OUT This session will outline a variety of ways to enhance the aroma of your cider, from the quality of the fruits to a number of processing options with a particular focus on the alcoholic fermentation management. $10

Cider's Taste of Place: Trialing Apple Varieties and Regions in New York State - SOLD OUT - In 2017, the Glynwood Center, NY Cider Association, and Angry Orchard planted 5,000 cider apple trees across 12 orchards in NY's major fruit-growing regions. Experienced orchardists have recorded tree growth/survival and yields each year since, and in 2020, a panel of cider professionals evaluated single-variety, single-estate cider samples for similarities and differences based on sensory attributes. In this session we will present our results so far, exploring the factors that go into determining a regional taste of place or terroir. $10

A Guide to Cider Carbonation Methods - SOLD OUT - There are several carbonation methods available for cider makers to employ, and choosing between these methods means considering consumer expectations, sensory impact, production cost, taxes and more. This session will address how to carbonate your produce consistently and successfully through forced carbonation, traditional method, and bottle conditioning. We will discuss how to measure CO2 and how it impacts taxes and labeling rules. Finally, we will explore the sensory impact of carbonation with tips on how to select techniques and levels appropriate for your style goals, with a tasting to illustrate those differences. $10

To Blend or Not to Blend? A Tasting to Explore Varietal Characteristics and Blending Techniques - SOLD OUT Single varietal ciders are popular and allow for producers and consumers to understand the characteristics of specific apples. Much of the art of cider making, however, is in blending. This session is a sensory exploration of the unique attributes of blends and single varietal ciders. Speakers will discuss when and how to blend, blending for acidity, alcohol, tannins, and balance, and what qualities to look for in the base juice. We will also address the pros and cons of single varietals and the consumer education and marketing of those ciders. $10

The History, Pomage, and Terroir of NY State's Cider - Cidermaker, orchardist and historian Elizabeth Ryan will lead a guided tasting and historical exploration of some of New York state's most cherished American heirloom apples and their impact on cider. This will include an expert panel presentation with thoughtful cider-tasting, pairing varietals from different locations. It is a recommended companion workshop to Cider's Taste of Place: Trialing Apple Varieties and Regions in NY State, which will take a more scientific approach to investigating terroir in cider in New York. $10

Pét Nats for the People: Lessons from Winemakers - SOLD OUT More and more cider producers are exploring pét-nat carbonation, but what is it really? This advanced session will lean on lessons from the wine industry and discuss how this bottle conditioning technique differs from other methods and how pét-nat derives its fizz. What are your production goals for exploring this technique, and how can you market this low-tech, artisanal style of cider to an increasingly curious and knowledgeable consumer base? Speakers will address all of these topics, as well as TTB regulations and tax considerations for your product. Participants are encouraged to attend the "Guide to Carbonation Methods" session as a primer to this deep-dive into pétillant naturel. $10

Wine Strategies for Creating Cider Country: Oregon and Virginia - This session will explore how two different cider regions, Oregon and Virginia, are making a name for themselves in the heart of wine country. Regional wine and cider marketing leaders will compare promotional strategies and brainstorm new methods for creating well-known cider regions, looking to wine for inspiration. There will be plenty of opportunity for audience participation and a flight of choice ciders from Oregon and Virginia to sample and discuss. $10

The Certified Pommelier™ Program's Structured Sensory Evaluation of Cider - SOLD OUT Participants will practice evaluating ciders using the ACA's Structured Sensory Evaluation process guided by Certified Pommeliers™ Darlene Hayes and Tim Godfrey. This session will teach you how to objectively assess any cider, empowering you in the cidery and in assisting customers to find a cider they love while also helping you to prepare for the Certified Pommelier™ exam. $10

Traditional Perries with Claude Jolicoeur SOLD OUT $10

Funk, Fault, or Phenolic Compound? (Aroma Only) - SOLD OUT Volatile phenolics, either from apples or created during the fermentation process, can produce the distinctive cidery, funky flavours that many people enjoy in cider. On the other hand, other phenolic and non-phenolic aromas produced by spoilage organisms can go beyond 'funk' and cause a fault or consumer rejection. In this session, we'll explore five different aromatic compounds found in funky, faulted, or phenolic ciders and you can decide for yourself which you like and which you don't. If you decide you don't, we'll cover how to avoid them in your cider. $7
Note: Tours, Tastings and Sessions are subject to change. Space is limited. In the event of a session cancellation, fees will be refunded.
Important! Cancellation Policy:
In the event of cancellation by attendee (in writing to info@ciderassociation.org with receipt acknowledged by CiderCon staff): Before November 1, 2022 - all fees paid less $100 for processing will be refunded. If cancellation occurs between November 1, 2022 and January 21, 2023, 50% of fees will be refunded - the remaining 50% will be forfeited. After January 21, 2023 - the full cost will be forfeited. No refunds will be processed after this date.